The ByneLine communicates what we celebrate, what we do, and how we do it with unity, purpose, and passion!
September 6
Prayer Meeting
Our Prayer Meeting will return to its original service time in the evenings at 6:15. Thank you for your cooperation in accommodating our VBS program during the summer. We hope to see you there!
September 9
1 Reason 2 Live
I reason 2 Live will take place September 9 from 9 am to 2 pm at Byne Church. Participants will gain the skills and confidence to render aid to individuals at risk of suicide. Courageous questions have the power to save. 1 Reason 2 Live will teach one powerful question that is proven to save lives along with five core values and additional follow up questions that help to restore resilience. If you would like to reserve a spot, purchase tickets by clicking the link below.
September 10
ESL Classes Begin
Do you or anyone you know want to learn English as a second language? Contact Tod Lanier (229-407-0424) to learn more about our upcoming classes starting on September 10th.
September 10-15
Puerto Rico Missions Trip
Our Missions Team has assembled a fantastic group of volunteers to perform light construction, leadership training, and host parties in Puerto Rico. We are thrilled to have the opportunity to minister and support the community. Byne is privileged to be part of this incredible journey!
September 11 & 12
WOM Meetings
Are you an enthusiastic woman looking for a group of like-minded individuals? Then WOM is the perfect fit for you! Our team is on a mission to achieve great things, and we would love to have you join us. Come check us out at our next meeting on Monday, September 11 at 5:30 PM or Tuesday, September 12 at 10:00 AM. To learn more, please reach out to Becky Carlton.
September 17
F.A.I.T.H Riders Fundraiser
Join us on September 17th at 6pm at Byne Church for the F.A.I.T.H. Riders' Fundraising Event. This event will feature The Good Day Pickers as our special guests, and aims to raise funds for spreading the gospel through our tents and with the Philippine Ministry. The F.A.I.T.H. Riders' program is exceptional in its mission to connect with people through their bikes, even those who may not usually attend church or bible study. Don't miss out on this opportunity to enjoy a spectacular evening of entertainment while contributing to a great cause! If you're interested in participating or contributing to the event, please contact Durwood at (229) 347-2379 or further details.
September 22
Family Fun Movie Night
We're hosting a movie night on Friday, September 22nd at 7:30 PM. Come and enjoy a fun evening of fellowship with your friends and family. We'll provide hot dogs and popcorn, and you bring your favorite soup, chili, or dessert to share.
September 23
Filipino Basketball Tournament
You are cordially invited to watch the Filipino basketball tournament. It will be held at the Byne gymnasium on September 23, starting at 8:30 am. We would be thrilled if you could join us for this exciting event.
September 23
Gaither Vocal Group
Join us for an unforgettable live performance by the legendary Gaither Vocal Band on September 23rd in Tifton, GA. You can contact Inez Ledden or the church office to learn more about this exciting event. If you need transportation, we'll be leaving from Byne at 4:30 pm. Before the concert, we'll be grabbing a bite to eat, so make sure you don't miss out on this fantastic opportunity! Space is limited, so please call ahead to reserve your spot.
Every Friday
Overcomers
Join us for an evening of worship, learning about faith, and fellowship every Friday at 6:30 pm in our small group room.
September 16
Support By Love Group
The Support with Love Group offers a safe and supportive space where individuals coping with loss can share their feelings, connect with others, and learn healthy ways to cope with grief. There is no judgement, only support and love.
Wednesday Night Bible Study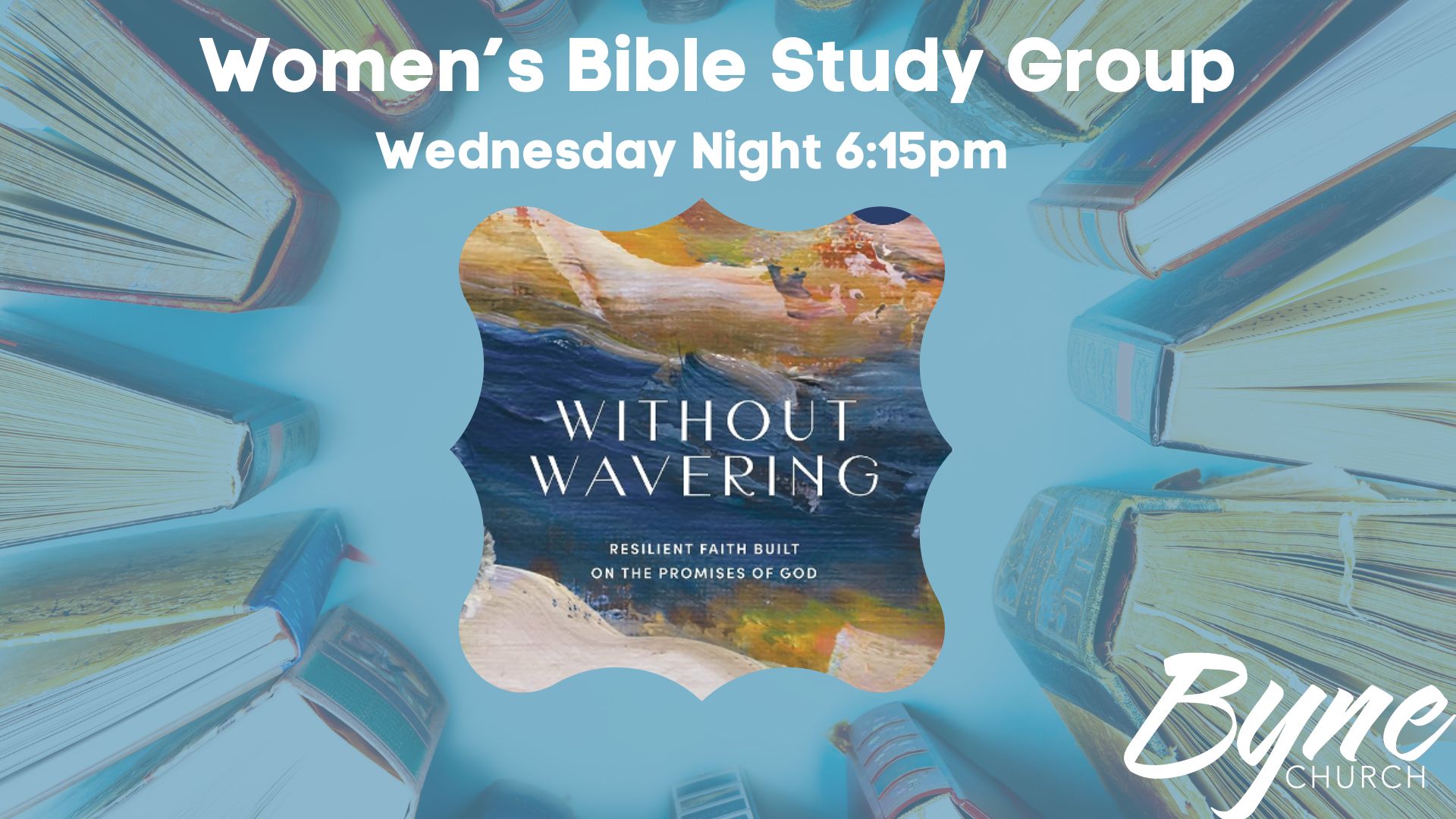 Wednesday Night
Women's Bible Study Group
Join us every Wednesday evening at 6:15 pm for a thought-provoking book study on "Without Wavering." This study aims to enhance your faith and trust in God's promises, building resilience in the process. Don't miss this fantastic opportunity to learn, grow, and connect with like-minded individuals. Mark your calendar and join us to be empowered!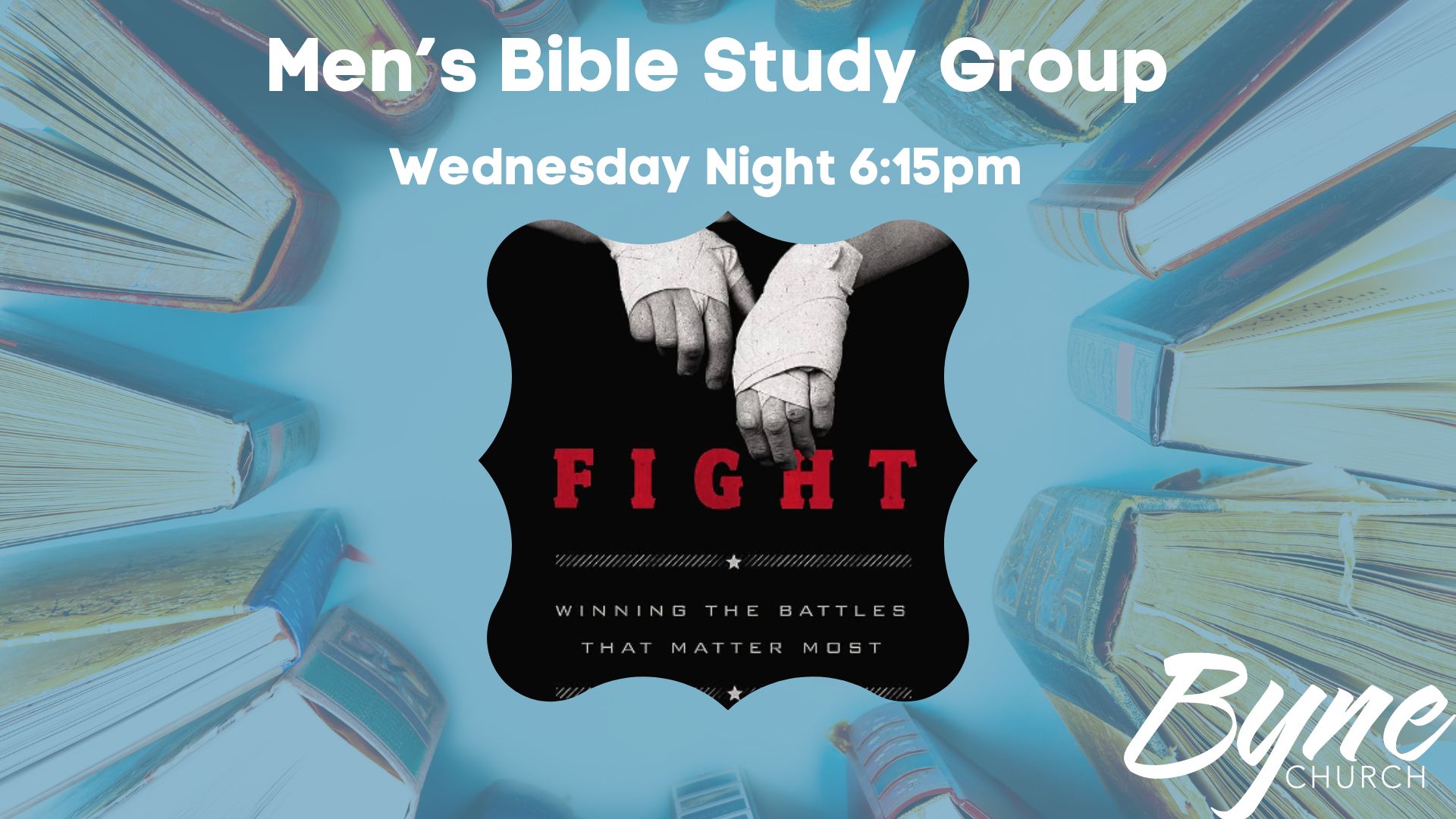 Wednesday Night
Men's Bible Study Group
Join the Men's Bible Study every Wednesday night at 6:15 pm as they delve into their latest book, Fight. This study will explore winning the battles that matter most and much more. Don't miss out on this fantastic opportunity to learn, grow, and connect!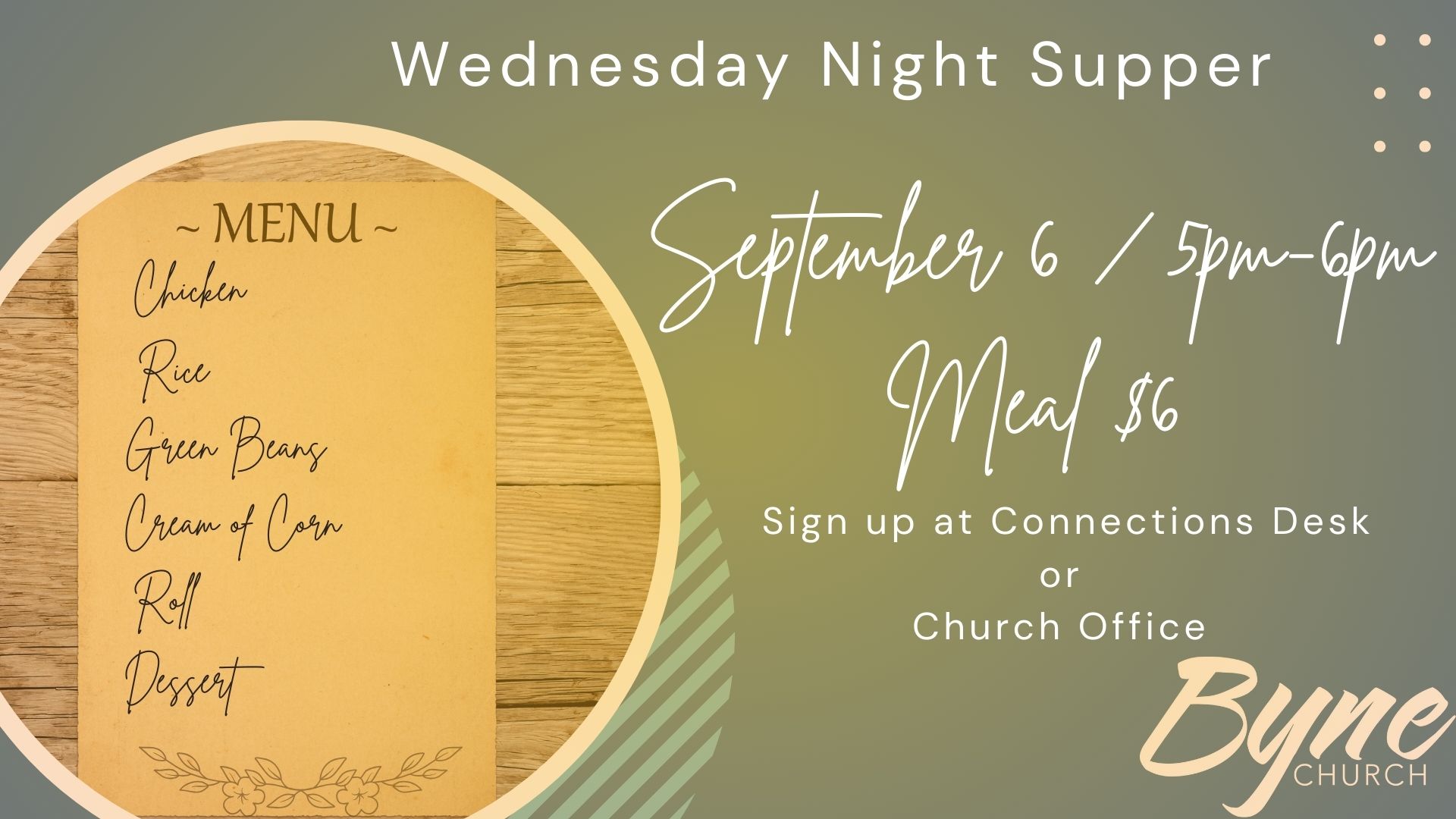 Wednesday Night Supper
Join us for a delicious supper featuring chicken, rice, green beans, creamed corn, rolls, and a sweet treat for dessert. The cost per meal is just $6, and you can sign up at the connections desk or at the church office. Don't miss out on the great company and fellowship - we look forward to seeing you there!
Byne Christian School Updates
September 12
PTF Teacher Luncheon
Our Parent Teacher Fellowship group will provide lunch for our amazing teachers once a month!
WAYS YOU CAN HELP:
1. Help us with set up, clean up and/or serving lunch.
2. Donate cash for food and supplies. Please clearly label any donations with "teacher lunch" and bring them to the office.
3. Own a restaurant? Let us know if you'd like to sponsor lunch!

Thank you for helping to support our staff!
Contact Sarah Altmiller with any questions. 508-207-2805

September 14
Grandparents Day
Mark your calendars! BCS Grandparents Day is coming up! We will have a short program, eat a delicious lunch together, and visit classrooms to see what your grandchild is learning and receive a special gift. We can't wait to see and honor you!
September 27
See You at the Pole
SEE YOU AT THE POLE™ is a time of prayer on the fourth Wednesday of September when students meet at their school flagpole, before school (7:30am), to lift up their friends, families, teachers, school, and nation to God. It is student-initiated, student-organized, and student-led.
September 28
Ring Ceremony
Juniors...mark your calendars! Logic and Rhetoric level students are all invited to attend, along with the families of our juniors. Josten's will be present to speak about the tradition of class rings and parents are to present the ring to their student. There will be a short reception immediately following for our juniors and their families.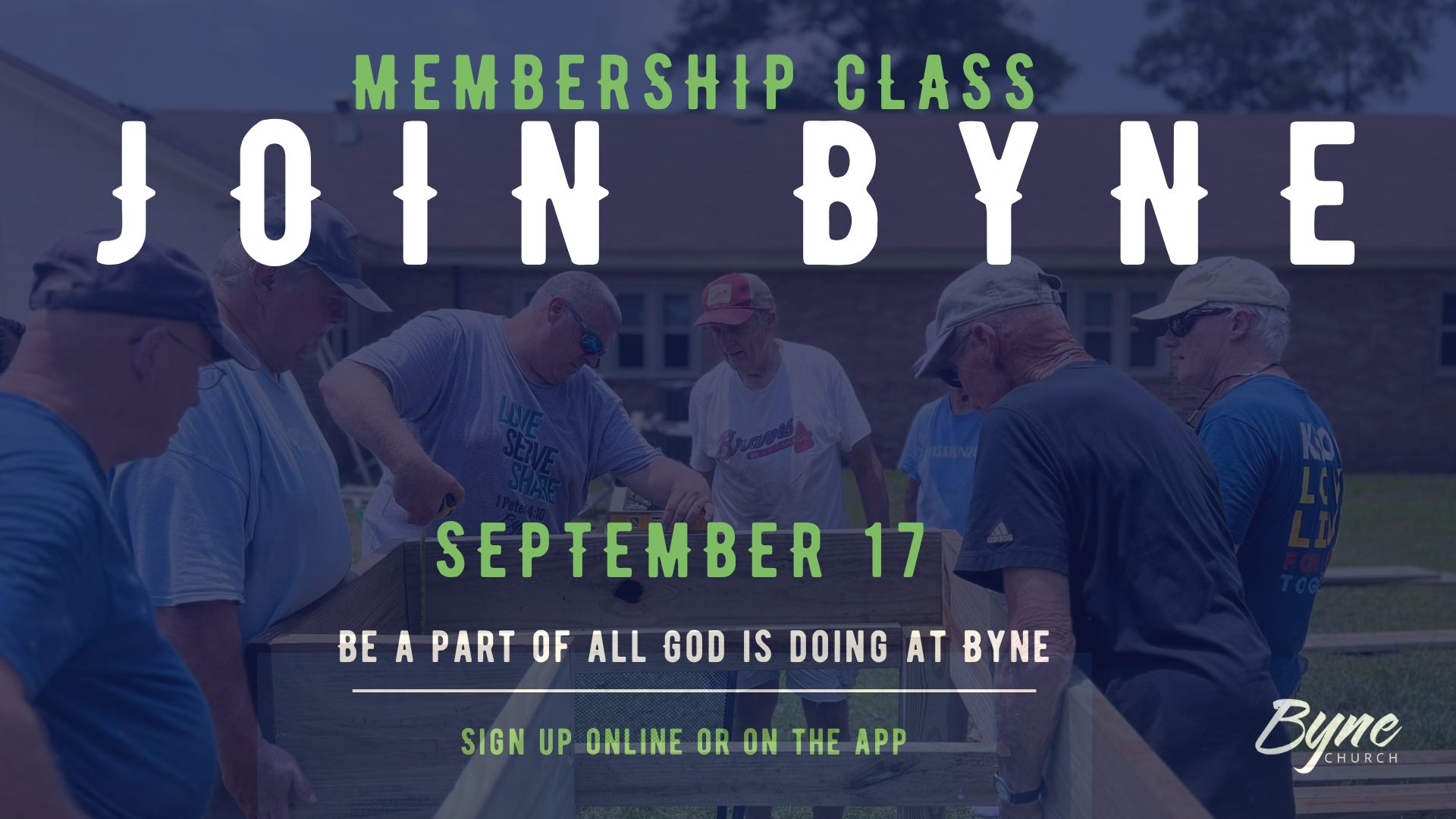 New Members Class
Join Our New Members Class on Sunday, September 17

Come and join us for our upcoming new members class! Lunch will be provided as we discuss what it means to be a part of the Byne Family and all that God is doing in this season.
If you're interested in attending, please click on the sign-up tab below. We can't wait to see you there!

Deeper than a Metaphor
Driving an old church van through the mountains of Eastern Kentucky, the words of Randy Travis came to mind and the words rolled out of my mouth in my favorite country music voice: "My love is deeper than the holler, stronger than the river, higher than the pine trees growing tall upon the hill". No one told me. There was no announcement, just a realization. There I was - in the holler. I had never been there, but when I got there, I knew what it was called!
Without metaphors, we would have very few love songs or poems. Not only as a tool of artistic expression, but also has a tool for educators, metaphors help us to understand truth on a deeper level. Scripture is full of metaphors to help us understand spiritual truth. Christians are called sheep with a Good Shepherd Jesus. The Psalmist compares God to a fortress, a rock, a high tower, and a buckler. In each metaphor, God is compared to virtues of earthly formations or objects.
We often make the mistake of confusing other divine truths as metaphors. To say God is a heavenly father, is not to liken Him to fathers on earth. It is to call fathers on earth to the perfection of our heavenly Father. Fatherhood is not a cultural reality, it is an eternal reality with an unchanging reference - God the Father. In the same way, the church IS the bride of Christ. This is not a comparison of the church to an earthly bride. This is called theomorphic language. It is to say through the church we enter into covenantal relationship with Jesus. Our identity as a church and our purpose as a church finds its purpose in our relationship with Jesus - as His bride. While the church exists with many cultural markings (and always has), our defined purpose lies outside of local traditions and personal preferences.
In the 90's, it became popular for churches to survey communities to find out what people want in a church. Best-selling books were written about how to create a seeker-centered church that gave people what they want. Many (not all) megachurches were built with this seeker-centered mindset. Churches became expressions of preferences, not a fulfillment of purpose. As a church, our purpose is not defined by our preferences or based upon "market trends". Scripture calls the church several names that define our purpose:
The Body of Christ living with Christ as the head and carrying out the commands of His headship.
The Bride of Christ set aside wholly for the glory and pleasure of God.
The Household of God, heirs of the Kingdom. Now called sons and daughters.
A Temple of the Lord for the indwelling of His Spirit.
A Flock listening to follow the voice of our Master.
The primary question is not how to grow the church, but how to fulfill the mission. May Byne continue to fulfill the purpose that God has given to us. May we be the church God desires and the church the world needs. Lean in and take another step as the Lord leads His church!

MISSIONS UPDATE
MISSION Opportunities:
SAVE THE DATES:
Puerto Rico - September 10th to 15th
Please pray for the team:
Justin Holton
Delwyn Horst
Fred & Joyce Jones
Robert & Debbie Titus
Disaster Relief - Storm Relief Trips with Samaritan's Purse will be planned soon to assist after the hurricanes.
MSSION GEORGIA:
Mission Georgia, an initiative of the Georgia Baptist Mission Board, aims to provide gospel-centered care to the most vulnerable populations in Georgia through local churches. By obeying Christ's command to love our neighbors, Mission Georgia empowers Georgia Baptist churches to spread His transformative message throughout their communities.
For years, Mission Georgia has supported various Georgia Baptist programs through an annual offering and prayer emphasis. The program has grown under the leadership of GBMB Executive Director Thomas Hammond. In 2019, the state missions offering took on an expanded role that mobilizes churches year-round to serve populations often facing challenging circumstances.
Mission Georgia has identified five specific needs that are prevalent in every county in Georgia. These needs disproportionately affect children and youth, and many individuals who are are disconnected from regular church activities. By addressing tangible needs and providing hope, churches have the opportunity to meet their greatest need: a life in Christ. As Psalm 4:6 reminds us, "Many are asking, 'Who can show us any good?'"
The Five Specific areas are:
Ministry Opportunities:
Byne Christian School:
Thank you to those who give to our school through scholarships, donations, and time. Our school is growing and doing great. We offer the 2 Day and 5 Day Classical model school. If you are interested in helping or knowing more about Byne Christian School, please see Mark or Hal.
Special Opportunities:
September 17th, 6pm, IMB Missionaries will be speaking at FBC Sylvester. C & B are personal friends of mine who are in the States for a few months. Come hear about the work God is doing through them in one of the most populous areas of the world. 
September 18th, IMB Missionaries will be at a Breakfast at FBC Albany. This will be similar to the service the previous night. Anyone is welcome, but we just need to have a number that will attend by 9/12. 
October 19th, Annual Meeting at Lakeside Baptist Church, Albany. More information to follow.
Maintenance Opportunities:
We are always looking for volunteers to come and do small projects around the church.
Please let me know if you would like to help.
We need help cleaning the tree line by the big ditch
We need to pressure wash and clean the sidewalks and playground equipment around the facility
Thank you to those who are already volunteering and helping with maintenance needs!
We need a maintenance vehicle. We are looking for a pickup truck that can be used by the maintenance team. If you would like to sell or donate it to the church, please contact Hal Pinson. The 1998 van we had finally died.
Church Shirts:
We have just released our brand-new polo and button-up shirts, available for purchase starting Sunday, September 3rd in the foyer. Hurry and grab yours for only $25 each before they sell out!
Vision Statement
To be a multicultural, multi-generational, Great Commission church that exalts Jesus Christ and leads people to discover their purpose in Him through love.
Mission Statement
To Know, Love and Live for Jesus!
September's Schedule
September 10

Debbie Titus, Destinie Crawford, Linda Cumbie, Margaret Owen
September 17

Deborah Bass, Penny Knight, Priscilla Pollock, Trinity Crawford
September 24
Lanna Adams, Amber Douglas, Joyce Bridges
September 6: Wednesday Night Supper 5pm
September 6: Prayer Meeting returns back to 6:15pm

September 9: 1 Reason 2 Live

September 10: ESL Classes Begin

September 10-15: Puerto Rico Mission Trip

September 11: WOM Meeting 5:30pm

September 12: WOM Meeting 10:00am
September 12: BCS Lunch For Teachers

September 14: Grandparents Day

September 17: Faith Riders Fundraiser

September 17: New Members Meeting
September 22: Family Fun Movie Night

September 23 Filipino Basketball Tournament

September 23: Gaither Vocal Group Concert

September 25: BCS Board meeting

September 27: See you at the Pole

September 28: Class Ring Ceremony


2832 Ledo Rd, Albany
United States of America
You received this email because you signed up on our website or made purchase from us.
Unsubscribe