"Train up a child in the way he should go; even when he is old he will not depart from it."
Our primary goal is to invest in children in order to develop a growing community of Christ followers.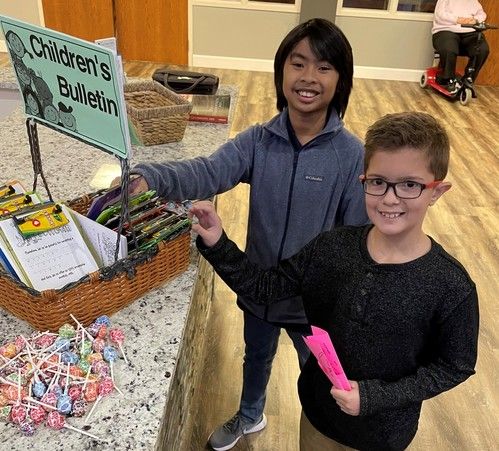 We teach children about Jesus in three different environments:
Our weekly Bible studies on Sunday mornings begin at 9:30 AM. Teachers and leaders meet with children (grades 1-6) and preschoolers (birth-Kindergarten) in large and small group settings. They connect on a personal level as well as through lessons from the Bible. It is a fun and engaging time prior to our Sunday worship experience (10:45 AM). We have Bible classes and groups for adults and teenagers at the same time.
For children in Kindergarten through 4th grade, we have Kids' Church during the worship service. During that time the children have an opportunity to learn more about following Jesus on their level. On the first Sunday of the month we have Family Day, which is when parents and children worship together (Grades 1 and up). We provide nursery care for preschoolers from birth to 4 years of age every Sunday.
Noah's Art – It's a fun and enjoyable time for children (Kindergarten-5th Grade) to experience the joy of being creative. The children have fun activities, crafts and a Bible story related to a valuable lesson on life. The group meets 6:15-7:15 in the blue gym (entrance at small parking lot near baseball field) each Wednesday.

We host Wacky Wednesdays (6:15-7:15). It's an evening of fun water games, snacks and a Bible story with valuable lessons on following Jesus.
VBS Reloaded Day Camp is 5 days of amazing stories, activities and crafts for children (preschool-5th grade). There's music, learning, fun, food (snacks and lunch) and a tee shirt each day from 9:00-4:30. It is scheduled for June 27-July 1, 2022. Online sign up begins in April.
We'd love to hear from you. Fill out the form below to get started.
Click on the button below to open a PDF copy of the Byne Medical Release Form. Form must be notarized.